Most people think that breathing and posture are two separate functions. They either try to "Stand Up Straight!" or they try to "Take a Deep Breath" Both strategies interfere with the natural uprightness of your spine and your body's ability to easily move with your breath.
Are you making these mistakes?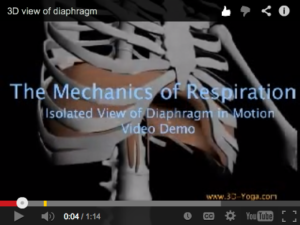 1) Breathing in by lifting your chest and shoulders. This requires many muscles in upper body to grip and tighten and prevents your diaphragm from moving properly in order to for breath to enter your lungs. This habit stiffens your alignment as well.
2) Holding your breath. Holding your breath actually requires your muscles to work hard. You will also start to feel frantic, panicky, anxious, and/or nervous. Your breath rate will go up and you may even be hurting your back. Your posture will be diminished because all of your muscles are squeezing.
3) Sucking in your belly & controlling the breath. Your body breathes better than you do. If you are trying to breathe deeply while holding in your belly, you are interfering with your body's natural breathing coordination.
These mistakes can not only cause physical pain but also evoke nervousness, fear, and anxiety. Your voice is also squelched.  Letting breath out releases muscles and allows your body to take care of you. Your BODY breathes better than you.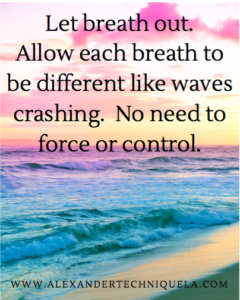 If your breathing seems difficult, your body is tense, and your voice is strained, the Alexander Technique may be the solution.