When you listen to a powerful speaker or presenter, it's not just the words that captures your move you. The sound of a dynamic speaker's voice can give you the chills, comfort you, inspire you, and rally you to action! They have a powerful voice that fills the room and captures your heart!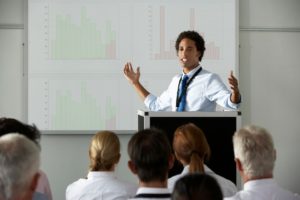 Your voice is vibration and, and if you are nervous, tension smothers the vibration of your voice. That interfering tension is created by lifting your chin and pushing your head forward to try and reach your audience.
Your REAL voice, your natural voice RESONATES! When you learn to release the unnecessary compression of the neck, ribs, and back, the vibration of your voice fills the room EASILY!
In this workshop, you will discover how your are unconsciously interfering with your real voice and how you can free your real & natural voice so you feel thrilled to speak (or even sing) in front of any audience!
When: Tuesday, March 26, 7pm-8:30pm
Where: Blue Heron Portal Studio, 3337 Laguna Canyon Rd. Unit A
Fee: $20
REGISTER HERE